Boat Tour to Paleochora - Gavdos - Potamos - Pyrgos - Lavrakas - Ai Giannis - Sarakiniko - Diana - Kamarelles - Paleochora
One Day Tour
Boat Tour to Paleochora - Gavdos - Potamos - Pyrgos - Lavrakas - Ai Giannis - Sarakiniko - Diana - Kamarelles - Paleochora
This exciting one-day cruise which lasts 10 hours, will take you in just 1.5 hours at the exquisite island of Gavdos. The tour is organized personally and the trip includes stops in sheltered paradise coves. The trip includes the tour of the island by bus and a stop for lunch, by arrangement.
Gavdos

In 1.5 hours, faster even than the line ferry, you will be stepping on the virgin island of Gavdos, famous for its fierce beauty and a known top destination for visitors looking for a singular experience of alternative tourism.
Potamos

Potamos beach with its clear blue waters and amazing marooned coloured land, is located at the exit of a gorge with impressive geological formations of clay, offering the supreme experience of a natural spa.
Pyrgos

The wonderful beach of Pyrgos is naturally separated by a series of rocks, and forms two small gulfs into two unorganized beaches, which are offered for complete relaxation and refreshing dips into crystal clear, light blue waters.
Lavrakas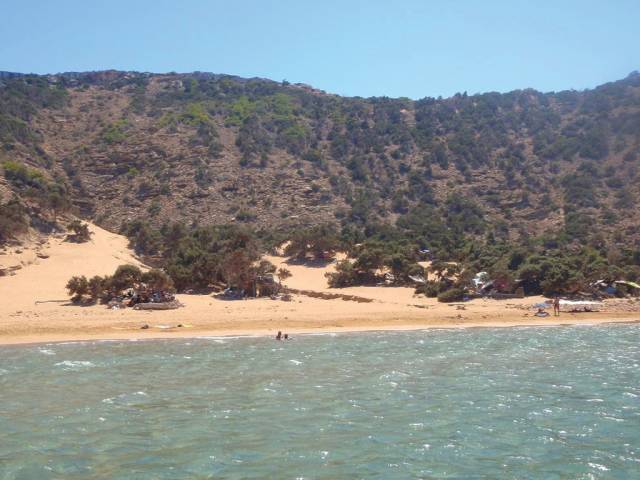 One of the most secluded beaches of Gavdos, accessible only by boat, Lavrakas will compensate you with the wild beauty of the scenery, the wonderful transparent waters and its pieces of history, since upon that spot, there are findings from twenty ancient tombs of the Minoan era.
Ai Giannis

One of the most popular beaches of Gavdos, famous for its turquoise waters, soft white sand and unspoilt beauty, the beach of Ai Giannis is ideal for nudism and a total release of the senses.
Sarakiniko

The popular Sarakiniko beach, with shallow crystal clear waters, white sand and playful dunes is ideal for unforgettable family moments. This beach is organized with rooms to let, car or van rental offices, mini markets and taverns.
Diana

A compelling hidden paradise that is said to be named after Princess Diana's moored ship. The famous Diana beach, with the magnificent vertical rocks that offer cool shade and equally transparent waters will surely enchant you.
Kamarelles

Our final destination is the coast of Tripiti, the southernmost point of Europe, where natural high Kamarelles (arches) with a background of turquoise waters create a scene of impressive beauty. Take a sit in the famous 2 meter high wooden chair and enjoy gazing at the vast South.
Additional Information
No pets allowed
Access to wheelchairs is not available
Not recommended for pregnant travellers
Not recommended for travellers with back problems
Not recommended for travelers suffering from heart problems or other serious medical conditions
What is Included
Skipper
Fuel
Soft Drinks
Snorkeling Equipment
Towels
Departure and Return
Departure and return take place at Skala, the main port of Paleochora. Upon request, we offer transportation from any place in Paleochora. If your location is found outside of Paleochora, an extra charge applies.
Cancellation Policy
For a full refund, please cancel at least 48 hours before the start date of the experience.
Faq
The answers provided below are based on customer questions.
Q
What is the maximum number of people allowed?
A
The maximum of people allowed (from 1-12 people) depends on the boat type and the protocols in force regarding covid-19.
Q
What is the duration of each stop in tours?
A
Stay times at each destination depend on the preference of passengers.
Q
Is snorkeling equipment provided on board?
A
Yes, upon request of passengers.
Information
Departure

Paleochora

Return

Paleochora

Duration

10 Hours
Book Now
Book this Boat Tour to Paleochora - Gavdos - Potamos - Pyrgos - Lavrakas - Ai Giannis - Sarakiniko - Diana - Kamarelles - Paleochora or call us on the phone below.
+30 28230 43306
Reservation Request ↓